Ahoy Sailor, willkommen an Bord!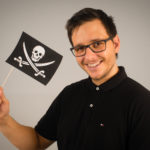 Mein Name ist Alexander Benoit und ich werde dein Kapitän auf dieser Reise sein. Ich bin froh, dass du es hier her geschafft hast.
Falls du Interesse hast, werde ich dir nachfolgend ein bisschen was über mich erzählen – woher meine Leidenschaft zu IT kommt und was ich mit diesem Blog bezwecke.
Die Affinität zur IT hatte ich bereits in meiner Jugend. Als kleiner Kerl fand ich es schon mega cool meinem Vater bei seiner Arbeit am PC zu zuschauen. Ein paar Jahre später entdeckte ich Computerspiele für mich und spätestens mit "Die Siedler 1" war es um mich geschehen.
Ein paar Jahre, viele LAN Partys, verschiedene Betriebssysteme und ein kontinuierliches "du musst aus deinen Fehlern lernen" später, entschied ich mich den alternativen Weg über eine Berufsoberschule mit Fachrichtung Datenverarbeitung zu gehen, statt ein "normales" Abi zu machen. Mit dem Abschluss in der Tasche und einem halbjährigen Praktikum in "Sweet Home Alabama" startete ich mit meinem dualen Studium Wirtschaftsinformatik.
Innerhalb meiner damaligen Ausbildung, hatte ich meine ersten Berührungspunkte mit Enterprise Client bzw. System Management Lösungen – damals Empirum / Matrix42. Während meines Studiums erkannte ich, dass die "unterstützende" IT nicht so ganz meine Vorstellung war und so machte ich den Schritt ins Beratungsgeschäft. Als Infrastruktur Consultant bei Data One durfte ich mich weiter auf das Thema Client-,System- Management konzentrieren und ich machte meine ersten Schritte mit Configuration Manager, Hyper-V und Windows Server.
Die Zeit verging und System Center wurde ein fester Bestandteil meiner Beratungsarbeit. Heute befasse ich mich neben den On Premise Lösungen mit Mobile Device Management, Windows 10 und Automatisierung.
Cheers! And Arghhhhhh! Bring the Rum cask aft.
*Captain